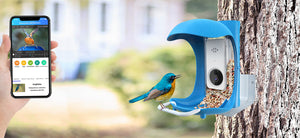 Happy Mother's Day!
Treat mom to something special today!
Get 15% off orders over $100 with code THANKSMOM
Smart Bird Feeder
Are you a bird lover? Are you still worrying about not being able to see the bird's appearance up close? Do you still spend more time in hiding every day to capture the beautiful moments of birds? Are you still flipping through the website to find the introduction of an unknown bird? If so, then our smart bird feeder will be your greatest help!
Auto-sensing function
Our outdoor bird feeder can accurately sense the visiting bird visitors through the auto-sensing function, and send you a notice of the visit through the APP. The super chip running at high speed can judge whether there is a bird visitor in a few seconds. This smart bird feeder allows you to see the real-time dynamics of bird visitors in time!
Fast & secure shopping experience
Perfect Feeder Body & Outdoor-Use Design
The overall design of the arched eaves is very suitable to keep the birds from raining, the bottom of the trough has multiple water outlets for drainage, the bird standing pole is made of imitated bark texture, and 720ML super large transparent food storage space.
Round arch shape roof
The arched eaves can not only be used as the cover of the food storage space, but also have a certain function of preventing rain and glare. Even in rainy or sunny weather, You can also better watch the visits of bird tourists.
Super large trough capacity 720ML
The large transparent food storage space of 720ML can store bird food for multiple days. You don't have to spend time every day to add it to attract more bird tourists.
Leaking design of the trough
There are many small holes at the bottom of the bird feeder. These holes save you from worrying about rain, because these holes can drain rain water better without causing food to fall!
WHAT OUR CUSTOMERS ARE SAYING
★★★★★

This little feeder is SO MUCH FUN! I stream it while I'm at work, I can watch the birds from my desk! Picture quality is awesome. Easy to set up (need Wi-Fi and a smart phone/tablet).

Patricia Wells
★★★★★

It fit my hummingbird feeders as expected.

Jessica Churchill
★★★★★

Our old window feeders are literally falling apart after five years. I looked for replacements and thought a different style would be nice. I bought three different brands as each has features I like.

Janice Rogers
★★★★★

As an avid bird lover and bird watcher, I used to think bird feeders like this were a gimmick. Then I read all the reviews on this specific model and thought not everyone could be wrong. So I gave it a shot, and I am happy to say, out of all the bird feeders I own (which is many), this is my absolute favorite one!

Olivia
★★★★★

Installed feeder and had a bird in one hour. That's crazy! I know this is so very out of the ordinary, but my other feeders took over 2 weeks to get some activity. I guess it's the welcoming design as it has no obstruction from the window. Idk 🤷‍♂️ but the birds love it!

Ella Culp